Victor Mørck is today named Player Of the Week in NJCAA!
After replacing BK Værløse's Danish setting this summer with Mississippi Gulf Coast CCVictor Mørck has hardly looked back.
With 5 goals and 2 assists in 2 games, he has been an inevitable contender for the title and in a league with over 200 teams, that speaks for itself.
Top scorer title and 2 wins
In a week where the Bulldogs could claim 2 wins, Victor was pivotal in both games.
2 goals and 1 assist in an 8-0 win over Holmes and a hat-trick in the following game against East Mississippi have laid the foundation for the Player Of the Week title.
Victor is now tied for top scorer in the MACCC conference with 13 total goals.
From Denmark to the US: a wild first season so far
Mississippi Gulf Coast, also known as the Bulldogs, have played 12 games during the college season
Their record is now 9-1-2 and they have won their last 8 matches.
Victor is 19 years old and traveled to the US as a prospective student athlete in August.
He got his soccer education in FC. North Zealand and in his late youth went to Værløse BK to play senior football.
He graduated from Lyngby Handelsgymnasium in 2022, took a gap year and then moved to the US where he is now in the middle of his freshman year.
Since his arrival, he has been pivotal and his own statistics are decidedly impressive. 12 games, 13 goals and 5 assists. That's it!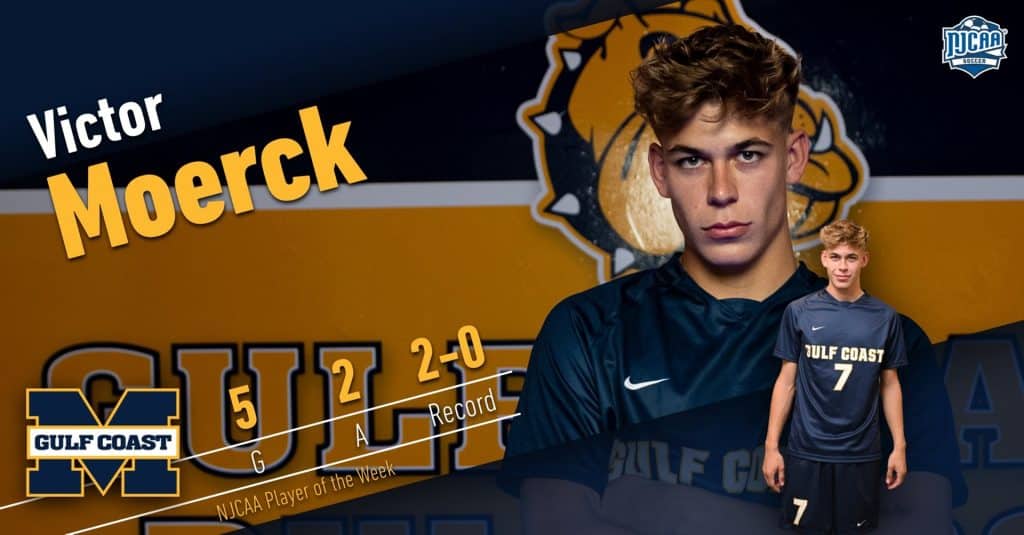 Victor also won the NSSA derby!
We have many talented clients in the US across the different college ranks. It turns into a lot of bidding wars between our clients and it's always a lot of fun!
A few weeks before Victor's Player Of the Week award, he played Pearl River CC and Mississippi Gulf Coast played each other.
At Pearl River Wildcats we have from left Noah Nymark, Noah Fazal, Mikkel Fredsgaard and Christoffer Dommer.
Victor is smiling in the middle and there should be no doubt who won the match and added a goal to it😉😉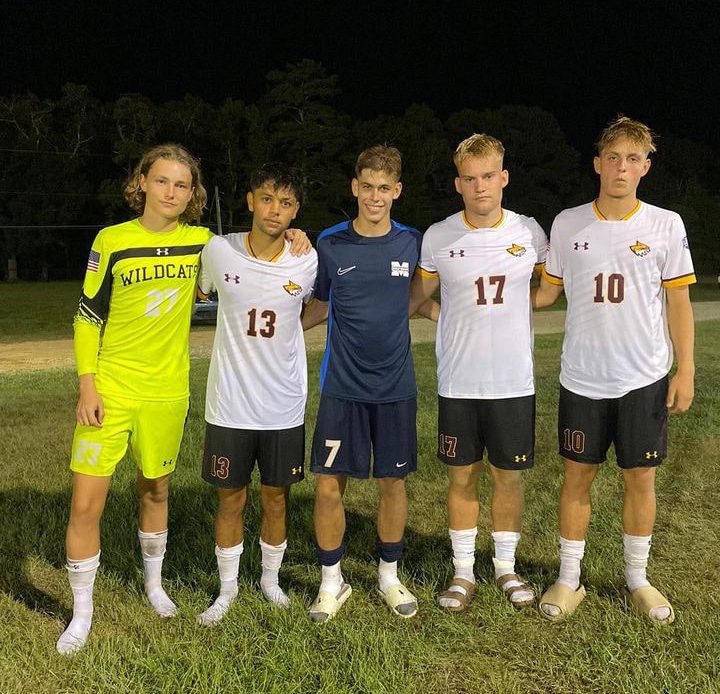 All 5 boys above attend what is called Junior College. Here you can study for up to 2 years and then transfer to another university and complete the last 2 years of a full US undergraduate degree.
Some of our best stories are with clients who have gone on to Junior College.Here, they've excelled on the field and in the classroom, then transferred to big universities on great deals.
It's a real pleasure to follow and document the stories that our customers in many ways write themselves. Congratulations friend!
Victor's goals for
MGC Bulldogs
in their game against the Pearl River Wildcats.
Beware of the sound 🔊