The US is home to over 4,000 colleges and universities, offering students a wealth of educational opportunities at undergraduate and graduate level. From small, local colleges to large research universities, American institutions offer a diverse mix of academic programs and opportunities. In this article, we provide a quick overview of some of the options available to students interested in pursuing higher education at a college or university in the United States.
Bachelor degree (0-4 years duration)
Bachelor of Arts (BA) in English, with a minor in History
Bachelor of Science (BS) in Biology, with a minor in Chemistry
Bachelor of Fine Arts (BFA) in Graphic Design, with a minor in Marketing
Bachelor of Business Administration (BBA) in Finance, with a minor in Economics
The traditional college option in the US is to go for a 4-year bachelor's degree.
The first 2 years of an undergraduate degree in the US are typically focused on more general education and introductory courses for your chosen field of study (read: bachelor's degree). In the last 2 years, you complete electives and more advanced subjects relevant to your field of study. For example, do you have If you choose Business Development as your field of study, you will take subjects such as finance, marketing or business administration.
The US is home to some of the world's best universities, offering a wide range of academic programs and opportunities for personal and professional development.
In general, the US has a diverse higher education landscape with colleges and universities of all sizes and types. From big research universities like Harvard, Stanford and MIT to small, local colleges like Harvey Mudd College and Hamilton College.
When considering higher education in the United States, consider factors such as location, academic level, athletic programs and cost to find a school that fits your goals.
International students will have to meet certain requirements and go through a different application process than US citizens. This typically involves submitting report cards, test results, essays and other materials to show your academic and personal qualifications. You may also need to take a language test, such as TOEFL or SAT, to prove your English language skills. You also need a student visa to study abroad.
We help with all of this through our
College process.

Master degree (1-2 years duration)
Master of Arts (MA) in English Literature
Master of Science (MS) in Computer Science
Master of Business Administration (MBA) in Management
Master of Education (MEd) in Special Education
A Master's degree is a higher education qualification that can be obtained after the completion of a Bachelor's degree. In the United States, a master's degree typically takes one to two years of full-time study, depending on the field of study and the program.
Obtaining a Master's degree can bring many benefits, both personally and professionally. A Master's degree can open up a wide range of career opportunities. Many fields, such as business, education and health, require or prefer candidates with a Master's degree for more advanced positions.
A Master's program typically consists of academic work and may also include an internship or research component. Students take advanced courses in their chosen field of study and immerse themselves in it. Some programs also require students to complete a final project or thesis to graduate.
You can be admitted to a Master's program in the United States even if you have completed your Bachelor's degree in, for example Denmark.
However, if you have not completed your bachelor's degree in the US, you will have to go through the same process as described under Bachelor Degree (0-4 years duration) to be admitted. This is one of the things we help with here at NSSA.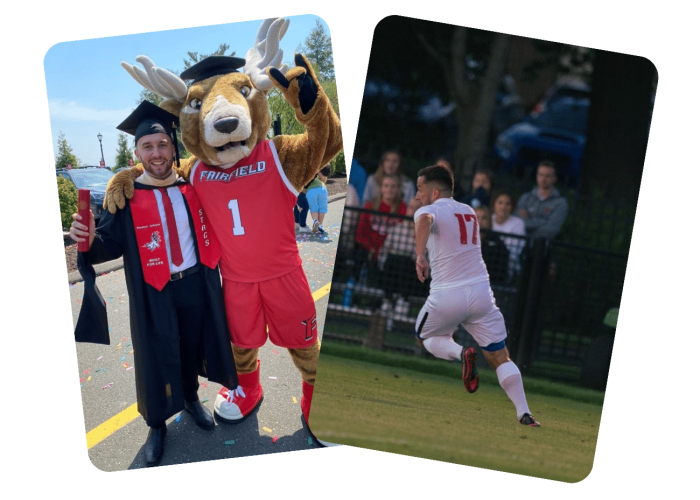 Junior College - Associate degree (2 years duration)
Junior colleges, also known as community colleges, are two-year higher education institutions that offer an Associate Degree.
They are often seen as an affordable and accessible option for students who want to further their education without committing to a four-year university straight away.
One of the great benefits of attending a junior college is the ability to transfer to a four-year college or university afterwards. Many junior colleges have transfer agreements with four-year institutions, which can make it easier for students to transfer to a four-year college and complete their bachelor's degree.
Many students go to Junior College to develop and mature themselves – this can be both athletically and academically. During the 2 years in Junior College, you can improve your sporting and academic performance and get even better offers from 4-year colleges than when you started. Many of the very best athletes in the US have started at Junior College and some of our best stories with clients have also started at Junior College.
If you want to read more, we take a deeper dive in this

article on Junior College.


Finally, many college and university programs also offer the possibility for students to participate in exchange programs and study in the United States for a semester or a year.
As an international student and Student Athlete, participating in an exchange semester at a university in the United States can be a challenging but rewarding experience. Not only will you have the opportunity to immerse yourself in a new culture, try different subjects and improve your English language skills, but you will also have the chance to compete at a high level in sports.
The educational culture is generally very different in the US than in Scandinavia, and exchanges can be a much-needed and rewarding change of scenery for many.
Of course, as with all other educational opportunities, your admission to an exchange program in the US requires some practicalities. It could be a visa, tests, sports eligibility or your housing situation when you are over there. This is one of the things we help with here at NSSA.
Ask us about your options!
Here at NSSA, we are primarily concerned with college sports. The combination of higher education and elite sport. An everyday life where academics and athletics are fully integrated – something you won't find better than at college in the US.
Of course, it is not free. In the US, society is built around user fees, which is a big contrast to education in Denmark and Scandinavia. Fortunately, scholarships and grants are available to make it affordable for international students. We are mainly concerned with Sport Scholarships, which are awarded on the basis of sporting ability in a given sport.
That said, academic scholarships are also very common and are aimed at students who have very good grades.